1963 VW Beetle for Sale
This Beautiful 1963 VW Sunroof Beetle Has Sold
But we do have another '62 Beetle for Sale an Agave Green sunroof bug!
Super sporty lowered Cali car. New brakes, interior, wheels and tires.
Look below for more classic VW Beetles for sale.
Place a bid today and Buy with confidence with eBay's $50,000 Vehicle Purchase Protection program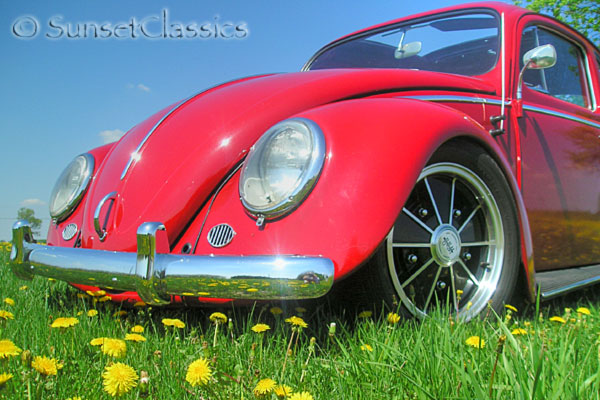 Beautiful, sporty and Classic VW Beetle Ragtop for sale from Sunset Classics. 1963 was the last model year for the huge sliding fabric sunroof, and this Classic '63 is a great example of those sought-after early Ragtops. The VIN number shows that this is an original sunroof car.
The car spent most of its life in California. This Beetle is nice and straight and extremely solid. The car was brought to Minnesota in 2001 and it has been garaged kept and stored winters since. It has a 3" narrowed adjustable front beam and it sports lowered spindles so it really hugs the ground.
This fast-looking, sporty Cal-Look Beetle sports the following:
New 3" narrowed adjustable front beam
CB 3" Dropped Spindles
New Interior
New Window Rubber
New BRM Wheels
New Brakes
New Tires
California Car
This car gets ALL the looks. It has a stock VW Duel Port motor and stock transmission. It's very zippy, and it has anti-sway bars all the way around so it REALLY HANDLES. It's a BLAST to drive...
This is a great 44 year old classic, so even though it looks awesome please keep in mind it isn't in showroom condition. The horn and radio do not work (there is no power wire running to the radio). I replaced and adjusted the fuel gauge but I haven't used up a tank of gas since replacing it. This Beetle runs and drives nicely down the road. I've put about 350 miles on it in the past 3 weeks.
And as you can guess, this car gets complements, thumbs up and huge smiles wherever it goes. If you would like to view this classic VW Beetle in person call John. It's located in Minneapolis, Minnesota. Feel free to ask if you have any specific questions before bidding, and best of luck getting this Breathtaking 1963 Beetle Ragtop home to your garage!
Thanks for looking - John Snell
Don't let this one get away!
Click an image below for many more detailed photos
of the interior and exterior of this sporty ragtop VW Beetle
For even more photos - we sure do love classic car pictures -
stop by this Beetle's original home on the 1963 Ragtop Beetle for Sale page at VintageVWCars.com
See this Classic Ragtop VW Beetle in action below:
Videos include virtual test-drive, drive by, walk-a-round and more!