1962 VW Sunroof Beetle for Sale
This Classic 1962 Volkswagen Sunroof Beetle has SOLD
When We Get Another VW Beetle for Sale Would You Like To Be Notified?
CD Player, Refinished Interior, European Styling, Good tires, Starts and Runs Great!
Place a bid today and Buy with confidence with eBay's $50,000 Vehicle Purchase Protection program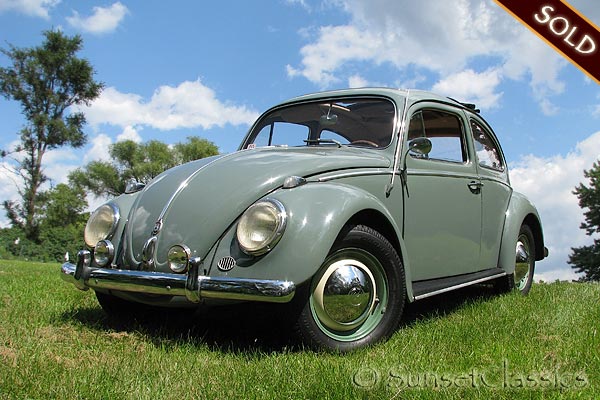 I am happy to offer this great-looking 1962 Sunroof Beetle for sale. This Ragtop Bug has a good-running engine, a refinished interior, 12 volt electrical system, a CD player and of course the desirable factory sliding canvas sunroof. These original sliding ragtop Beetles are rare as this was only an option through 1963. There are modified cars out there, but an original ragtop car is more desirable and more valuable. This example is finished in one of my favorite color combinations on a classic Beetle—Agave Green with a tan interior.
This Sunroof Beetle is so much fun to drive! The sunroof is almost as large as the entire roof so it makes for the feel of a convertible without the hassle of getting out of the car to convert the top. The style and rarity of this early sunroof Beetle will provide fun for the whole family. There are front and rear seat belts, cute matching cushions in the back seat, and a great stereo with hidden CD player and hidden speakers. All of these features come together in a great-looking package for an unmistakable nostalgic experience.
There are some fun stylish additions to the interior that help to add to the nostalgia of this classic bug. There is a period correct bud vase on the dash, cocoa mats on the floor, and a bamboo parcel trey under the dashboard. The glove box hides a modern CD player and there are speakers hidden behind the tan front door panels and behind the rear seat for a VERY FULL SOUND! The headliner is a fuzzy tan fabric and it is installed nicely in the interior roof of the car. The front seats have been refinished in tan. The original Sapphire I radio worked on 6 volts before being disconnected before the car was converted to a 12 volt system. The interior is completed with a leather-wrapped steering wheel.
This classic VW has its original stale air 40 hpr engine. According to the previous owner the engine was rebuilt in 2006 with every moving part replaced from the crank outward. Externally the engine was treated with new heads and a new carburetor. The transmission is stock and it shifts easily into all gears.
The brakes are complete and in good working order. There is a bus-style master cylinder with the reservoir under the tank. Even the emergency brake works great.
This bug was converted from 6 to 12 volts for easier starting, brighter headlights, and improved reliability/drivability. There is a 12 volt generator and 12V voltage regulator in the engine compartment. The wiper motor uses the correct resistor and the wipers and all other electrical components work as they should. There are two nice-looking functional fog lamps attached to the European-style front bumper! The 12 volt system is what makes the CD player possible :-)
The tires have a lot of tread on them making for a safe and smooth ride. The stock wheels are two toned and look great on this Agave Green Beetle sunroof. The odometer reads 18k but the original mileage is unknown (likely 118k)
The body is in good shape. The floor pans are nice and solid with no holes. The rocker panels and wheel wells are also nice and solid. There is a line of corrosion low down on the exterior of each door, but I took a magnet to the doors and they don't appear to have any filler in them. All imperfections can be viewed in detail in the close-up photo gallery below.
This is a nice running, good looking Sunroof Beetle for sale. Check out the two photo galleries below, enjoy the videos of this bug running and driving, and let me know if you have any questions. Thanks! –John Snell
Click an image below for many more detailed photos
of the interior and exterior of this fine 1962 VW Sunroof Beetle
See this Classic 1962 Sunroof Beetle in action below:
Videos include test-drive, drive by, walk-a-round and more!
Click the PLAY button below for some exciting video!