1981 DeLorean for Sale
This Low Mileage 1981 DeLorean DMC-12 has SOLD
If We Get Another Classic Delorean for Sale Would You Like To Be Notified?
Fantastic famous gull-wing door sports car! Flux capacitor not included.
We have this fantastic 1981 DeLorean for sale. Only about 9000 Delorean DMC-12 were ever made by the Delorean Motor Company. Approximately 6,000 are thought to exist today, and this car is a great example of these historic DeLoreans best known as the "Back to the Future Car".
This is a 3rd owner car with only 19,513 miles on the odometer! The previous owner stated the mileage was actual, and carfax shows the car was never in a major accident and has never been salvaged. There are no service records to prove the mileage without a doubt, but the great condition of the car (especially the nearly perfect original upholstery and carpet) support the odometer's low mileage reading.
For fun I rented a fog machine for the photo shoot (I thought I'd mention that to let you know the car didn't actually just return from a time travel adventure).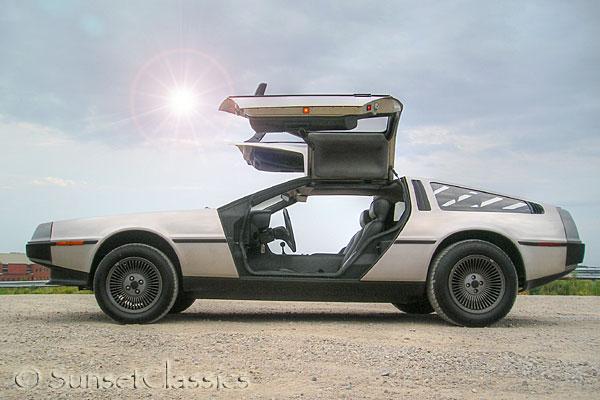 As you can see in the photos the interior is in really nice shape. The seats and carpet look like new. The door rubber gaskets also look like new. There are two cracks in the dashboard but the car comes with a fabric dash cover that was specially made for a DeLorean and with the dash pad in place the interior is pretty much in mint condition.
This car has not been modified and has never been painted. Enough of these vehicles have lost that factory finish, which is impossible to bring back. But this car looks great finished in original stainless steel!
The power windows all work. There is one light (passenger side front fender) that is not working. Otherwise the lights all work (including the lights on the gull-wing doors that go on when they're open). The tape deck also works, but it does not hold its memory (which reminds me of Doc from the movie Back to the Future). The car drips a bit of oil, but I've read that's fairly common with these engines. The dripping isn't excessive but it does mark it's spot.
All of the belts on the engine look great. The car has a new fuel distributor and all new fuel lines coming from the fuel distributor. The engine runs great after it warms up, but it runs a bit rough until then. After warming up for about 3 minutes (when the weather is warm) the car runs fine. A new fuel combination kit was recently installed (including a warm up regulator--also called a fuel control pressure regulator). There is an exhaust leak which I'm guessing is probably just a $12 gasket. (The exhaust systems on these are pretty basic since the engine is already at the back of the car!). The alternator seems to not be charging properly as of the last two drives. The alternator is easily accessible in the car and the P7157 100 Amp alternator (1980 Cadillac) is almost a direct replacement for the DeLorean. Price is $75 with a $30 dollar core charge. I'm not sure it needs one but just in case I thought I would include that information. This also gives you an idea on how affordable this car is to maintain!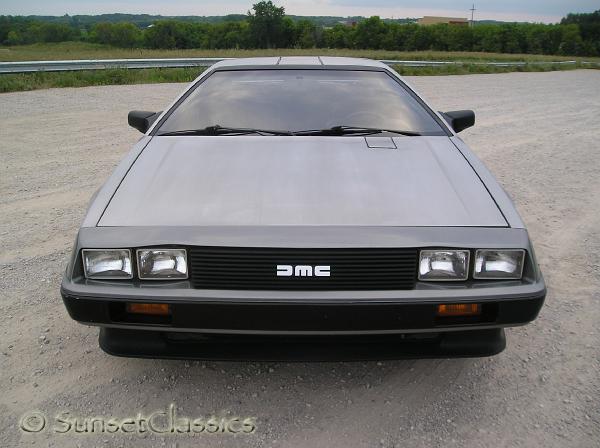 The gull-wing doors open and close nicely. The doors match up great and they stay up just fine when open. You'll love getting inside this low sports car and pulling the gull-wing doors down. It's a thrill that doesn't get old...
There are hundreds of photos in the galleries, so check out the pictures and if you have specific questions please feel free to ask before bidding. These DeLoreans are SUPER FUN and when driving this car you will think you are continually driving through SMILES-VILLE! Below is some information on the DeLorean:
All 1981 and a few 1982 models allow you to fuel with ease because of an access panel on the front of the car. The panel was discontinued because of cost in early 1982 so fueling is more difficult on later cars since you have to pop the hood. There are also nice body lines on the hood of the 1981 DeLorean that aren't on later cars (too many hoods were getting messed up in production trying to get the body lines right).
The Light-alloy 90deg V6 engine is made by Volvo. The PRV V6 is a 2.85-liter, 174 Cubic Inch engine. It puts out 130 horse power and 203 foot pounds of torque. For those of you who understand power to weight ratios, this car really gets up and goes. Zero to sixty is just over 8 seconds, 8.1 tested by Motor Trend in 1981. Other magazines tested it and found the 0-60 times to be closer to 10, ranging from 9.5 to 9.8. Keep in mind that you can get a Turbo for these, which will put you in the six second range for 0-60. I always thought it took Marty a while to get to 88, especially with that van full of people keeping up. Guess I wasn't that far off.
Top speed is said to be 124 miles per hour.
This engine is extremely reliable, often breaking the 200,000 mile mark without major repairs. Parts are just as easy to get as a Honda Accord (according to the DeLorean Web site), although a little (not a lot, not unreasonable) more expensive.
Gas mileage is different in everyone's eyes, some people see 24 as a good number, others see it as bad. I see it as good. This number is achieved with either the 5-speed manual or 3-speed automatic. This DeLorean for sale here has the more desirable manual transmission.
Good luck bidding! Please ask questions prior to bidding and only enter into the binding eBay bidding contract if you intend to follow through with the purchase. You will love owning this continually appreciating piece of automobile history!
Click an image below for many more detailed photos
of the interior and exterior of this fine 1981 DeLorean for Sale
See this rare 1981 DeLorean in action below:
Videos include virtual test-drive, walk-a-round and more!