Custom 1977 Big Block 502 Corvette for Sale
This Custom 1977 Corvette Has Sold
Features a powerful GM Performance Crate 502 Engine!
Check out more Classic Corvettes for sale below...
Place a bid today and Buy with confidence with eBay's $50,000 Vehicle Purchase Protection program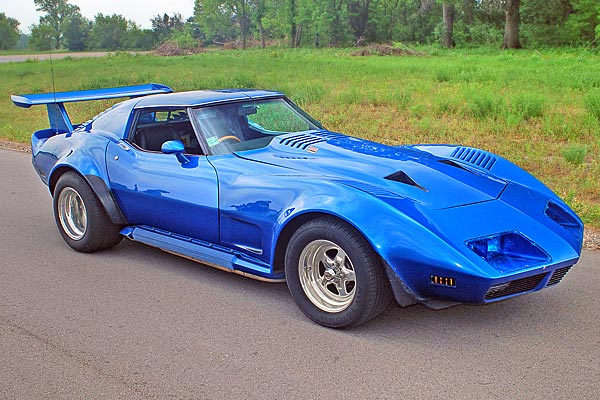 We have a fantastic classic 1977 Corvette for sale that will blow you away! I'll give you all the specifications on this car, but what you really aught to know is this car is FAST! I'm talking AMUSEMENT PARK FAST! The Throttle is like a Smile Dial. You should have seen my ear to ear grin when I got back from my test drive. If you had a dream as a kid to someday own a real Hot Wheels car, this is your chance. Of all the used Corvettes for sale this beauty is the one you should bring home.
This 1977 Corvette Sports the Following Mods:
502 ci GM Performance Crate Motor
Built Turbo 400 Automatic Transmission
T-Tops (& 1-Piece Smoke Top Included)
Custom Side Pipes
Pioneer CD Player Sound System (Sounds Great!)
Rear Air Spoiler from a Lamborghini
Power Windows
Power Seats
This custom Corvette drives and stops smoothly. The odometer shows only 59,842 and the owner was told the odometer showed actual miles by the previous owner. There are about 10k miles on the motor and transmission. The power windows, turn signals and other electrical components all work well (except for the horn). The personalized 502VETT licence plate comes with the car, but the plate frame will stay with the owner.
This Classic 1977 Corvette has sold but if you own a Vette find classic Corvette parts for sale below:

Click an image below for many more detailed photos
of the interior and exterior of this fine 1977 Corvette 502
See this Custom 1977 Corvette in action below:
Videos include virtual test-drive, drive by, walk-a-round and more!