1974 VW Thing for Sale
Runs great, Nice complete and fully functional VW Thing
We have a great VW Type 181 Thing for sale. Owning a classic VW is a great feeling! You'll get thumbs-up every where you go, and you'll soon realize these cars have a personality all their own. If you've ever considered buying one of these rare VW Things, or if you've had a classic VW in the past and want to rekindle that joyous, nostalgic feeling that can only come from a classic VW, then this is the car for you.
If you have interest in this car or in any of the other rare VW's on my site, please call me anytime at - SOLD. The VW community knows me as "Jay", but my real name is John Snell the Tenth (with so many Johns in the family you can see why those who know my family call me "Jay"). I am happy to answer any questions you might have.
The engine in this VW starts right up and runs great. Even without giving it any gas, you can just lean through the door, hit the key, and the engine fires right up. When I was checking out this car the original founder of Things Unlimited was there tuning the engine and carburetor. That guy sure knows what he's doing because the car runs and idles great.
You can have your choice of the wheels and tires that are on the car, or you can have a good set of stock wheels and tires if you prefer. You can see the set of stock wheels in the photo gallery below.
The floor has been recently treated with POR-15 so you'll have a nicely painted floor that will be protected for years to come. Many of the photos are of the interior without the seats for better visibility, but the car come with all stock seats installed. It's a running and driving car that you can enjoy exactly as is. There are also a few extra VW Thing parts including all 4 side curtains (with sliding vent windows) and a good top frame and top.
This is a fun driver and I'm sure the next owner will be happy with the car. It isn't rust free but it's one of the better examples of these rare cars that I've seen for sale. Take a look at the photo gallery so you will know exactly the condition of this fun car.
And by the way, for those of you who don't know these cars like I do (I've owned one for half my life now!), the windows come off, the doors come off, the windshield folds down and they have great ground clearance! Things are one of the only door convertibles made by any automobile manufacturer and they are great for taking through the woods or on old fire roads or other dirt paths. These four door convertibles are fun for the whole family.
I know of several reliable shipping companies, and while shipping the car will be the winning bidder's responsibility, I am happy to do what I can to assure the shipping process goes smoothly.
Click the image below for many more detailed photos
of the interior and exterior of this fine 1974 Volkswagen Thing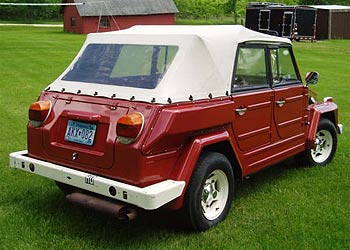 1974 VW Thing Photo Gallery