1974 VW Thing for Sale
Rare Avocado Green Thing, complete with all seats, side curtains and convertible top!
This is one of several VW Things we currently have for sale. This is an original Avocado Green VW Thing--the rarest of the 4 available stock colors (which were white, orange, yellow and green in case you were wondering). This car has been repainted but it is fairly close to the original color.
I bought my first collector car when I was 17. It was a '74 VW Thing that was originally Avocado green--just like this one. I bought it as a fixer-upper too. When i got mine it didn't even have a motor or a top! Well, I'm now 35 and I still have that VW Thing in my collection. I love these cars. They are SO MUCH FUN!
This car now has a good, running engine. The brakes were also just replaced up front so this is now a running and driving car. These repairs were just completed so it hasn't seen much road time, but it is now being sold as a running and driving Volkswagen Thing.
The car has a good top and working top frame. This Thing comes with all four side curtains but they need reconditioning. The Thing shop in Arizona will recondition your side curtains for you--you just need to mail in some good frames and this car has good frames.
For those of you who don't know these cars like I do (as I said I've owned one for half my life now), the windows come off, the doors come off, the windshield folds down and they have great ground clearance! They are great for taking through the woods or on old fire roads or other dirt paths. You can even fold down the top and windshield to make it under those partially downed trees! I've done it myself. These four door convertibles are fun for the whole family. Things are one of the only four door convertibles made by any automobile manufacturer.
If you're an out-of state bidder and would have this Thing shipped, I know of several reliable shipping companies and I am happy to do what I can to assure the shipping process goes smoothly.
Enjoy the two photo galleries below, and let me know if you would like to purchase this classic Volkswagen!
Thanks, -John Snell - SOLD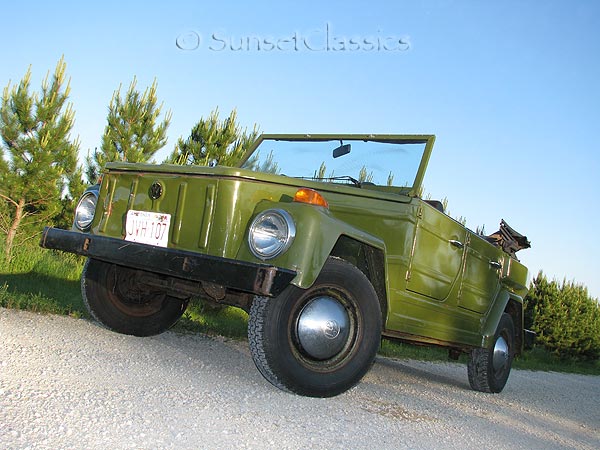 Click the image below for many more detailed photos
of the interior and exterior of this fine 1974 Volkswagen Thing
See this Classic 1974 VW Thing in action below:
With a quick test-drive Video! (This is with the old motor by the way.)