1972 Buick Gran Sport Convertible for Sale
455 Restomod Tribute car, Complete Frame-off restoration
In this auction we are featuring a stunning 1972 Buick Gran Sport 455 for sale. This is an absolutely beautiful classic 1972 Buick GS modified to a 1971. This Buick Gran Sport is a 455 Restomod Tribute car. Complete frame-off restoration with over $50,000 invested to bring this fine car to it's showroom condition. This can be your very own pride and joy, and it will certainly be the envy of all of your friends. I can't imagine a car that would be more fun to take out on a Saturday night with 5 friends/family members. As they gaze up at the stars they will feel as though you've taken them to heaven.
Features and Modifications:
450+ HP Buick Stage 1 Motor
Polished and Ported Steg 1 heads
455 bored .30 over (462 CI)
Factory crank 10 under
Reconditioned factory rods
TRW speedpro pistons
GSCA popular mechanics cam
Edelbrock B4B intake
Mickey Thompson Header
1000 CFM thermoquad
Holley Fuel pump
Turbo 400 Transmission w/ 3500 10in stall converter
Factory 4 core radiator
This is a restomod / Recreation of a rare 1971 GS 455 (not a numbers matching GS). This car has it all: Everything new Brake lines, Body Bushings Polyurathane bushings, front disc brakes and a rock solid 3.42 Eaton Posi unit, Brand new factory Buick Rally rims, new core support.
What all this means is that you won't need to worry about anything except turning the key and enjoying a smooth, hassle-free ride.
All chrome has been rechromed and this classic Buick has new plastic all around including the grill and hood pieces. No expense was spared.
The Pearl White interior is in very good condition (near mint). This classic car has a lovers split Bench with new black carpeting and a brand new power top. Everything else in the interior is near perfect. There is also a very nice Alpine stereo with a sub in the trunk with rear speakers under the convertible top well. This hot Buick also has kick panel speakers with a sound system that really adds to the driving experience. This upgrade was all done without wrecking the stock appearance of the interior.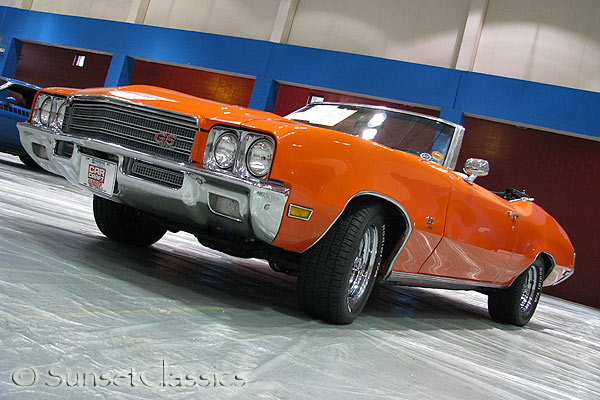 Now for the good stuff. Buick 455 bored .30 over (462 CI,), factory crank 10 under, reconditioned factory rods, TRW speedpro pistons. GSCA popular mechanics cam, Edelbrock B4B intake, custom ported Steel original Stage 1 Heads, Mickey Thompsom Header, 1000 CFM thermoquad, Holley Fuel pump, Turbo 400 Transwith 3500 10 inch stall converter and a factory 4 core radiator.
I have not Dynoed this motor, but it is easily 450hp plus, and similar motors have been closer to 500hp This is a show quality car that runs high 12 to low 13 second 1/4 mile times. It is reliable and street drivable on 92 octane unleaded fuel, runs cool and is awesome. So if you are looking for the ultimate Buick convertible Street Machine this is it, I have enjoyed this car and I know you will too. Please contact me with any questions. John Snell - SOLD
Click an image below for many more detailed photos
of the interior and exterior of this fine 1972 Buick GS Convertible
See this Classic 1972 Buick Gran Sport in action below:
Videos include walk-a-round, startup and more!
Click the translucent PLAY button below for some exciting video!