1970 Karmann Ghia for Sale
This is a Beautiful Orange 1970 Karmann Ghia
When We Get Another Classic Karmann Ghia for Sale Would You Like To Be Notified?
Look below for more Ghias for sale, or check out our current selection of classic cars for sale above.
This is a nice vibrant orange 1970 Karmann Ghia for sale. Owning a classic VW (especially this stylish Karmann Ghia) is a great feeling! The sunroof lets you enjoy the wind-in-your-hair sensation of a convertible while still maintaining the stylish lines of a coupe. You'll get thumbs-up every where you go, and you'll soon realize these cars have a personality all their own. If you've ever considered buying a Ghia, or if you've had a classic VW in the past and want to rekindle that joyous, nostalgic feeling that can only come from a classic VW, then this is the car for you.
I stored the car for the Minnesota winter and now that it's spring, it's ready to go to a happy family. I've owned 6 Karmann Ghias but this one is the nicest! If you've always wanted one of these stylish cars, this is the one to buy.
This beautiful Karmann Ghia sports:
A Rebuilt Motor with approximately 1200 miles on it.
New Paint,
New Tires,
New Brakes,
New Door Panels,
New Headliner
New Windshield
CD Player
Sunroof (with removable glass AND pop-up option)
New Window Rubber and so much more...
The history of this classic Volkswagen as I know it begins in 2002 when it was purchased from California and shipped to Ohio. After some time the new owners decided to move to Minnesota, and in order to safely pull the little Karmann Ghia they bought all new tires for the car. These owners also put new brakes in the car and had the engine rebuilt. But financial times came upon the Ghia owners and they had to sell the car before the restoration was complete. That's where I came in.
I bought the car in the Fall of 2006 with the idea of finishing the restoration. I've been into fixing and collecting air-cooled VW's since 1991. I have turned my hobby into a business and I am now the owner of VintageVWCars.com llc and SunsetClassics.com.
After acquiring this special California sunroof Ghia, I started disassembling the exterior and getting the body ready for paint. This Ghia was originally Orange so after prepping the body I sprayed it with 3 coats of Original Volkswagen Bright Orange. I purchased and installed new rubber and gaskets for the glass and seals. The previous owner had installed new carpet so I picked up where they left off by treating the Ghia with new door panels (front and rear) and a new headliner! I had the front bumper re-chromed to complement the beautiful exterior of the car.
I finished the work last fall and I was able to drive the bright orange Karmann Ghia to several car shows and events. (including "Wings and Wheels" in Oceola, WI, and on the Twin Cities VW Club Fall Color Cruz along the Minnesota River Valley.) The car handled these long trips without a hitch! And the sunroof REALLY makes driving this car a pleasure.
I know of several reliable shipping companies, and while shipping the car will be the winning bidder's responsibility, I am happy to do what I can to assure the shipping process goes smoothly.
The car has a CD player, and it's worked for me fine since I bought the car except for the last few weeks. Sometimes the radio has power but sometimes it doesn't. Hurumph. The CD player does work fine when it decides to have power. The horn works but when it's plugged in it works so well that it is on all the time. I just leave it unplugged and drive well enough so I don't need a horn. The engine starts RIGHT up! It does smoke a little when it first starts up if it hasn't been driven in a while but the engine clears out pretty quickly. This car idles better than any other VW I've owned (and I've had over 20). It's really been a pleasure owning a VW that is so eager to run well.
The many images and video we have included below give a general impression and description of the car, but if you have specific questions please ask them before bidding! I am happy to answer questions via email or telephone (though I will not disclose the reserve price). I can be reached at any time during this auction at - SOLD. The car is not perfect, nor is it a new car (It IS 37 years old, after all!). So again, if you have specific questions you should ask them before bidding. The car looks and drives great, but although it's very nice, it's not "showroom condition". The paint is good but not 100% perfect, I did color sand the car after painting it and I spent a lot of time buffing so that it has a really nice shine. To the casual observer this car looks awesome, which is evident from all the nice comments I receive from passers by. So, please read the legal mumbo jumbo on this auction prior to bidding. If you follow these steps you'll be able to bid with true confidence and you will be proud to own this fantastic classic Karmann Ghia.
Click an image below for many more detailed photos
of the interior and exterior of this fine 1970 Karmann Ghia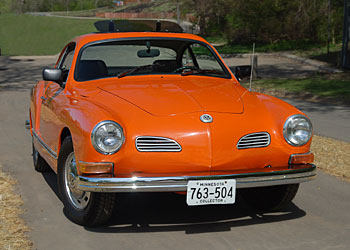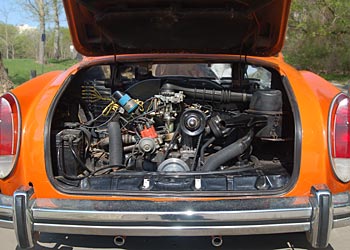 For even more photos -
we sure do love classic car pictures
-
stop by this Ghia's original home on the
Karmann Ghia for Sale
page at VintageVWCars.com
See this Classic Karmann Ghia in action below:
Videos include virtual test-drive, drive by, walk-a-round and more!