1968 VW Karmann Ghia for Sale
This is One Hot Red '68 Ghia
1776 Engine, CD Player, Fast and Zippy - Handles Great!
This is a great looking, running and driving 1968 Karmann Ghia for sale. It has the correct '68 only seats, a CD player, 1776 engine with duel carbs (so it's quick), and it's lowered with anti-sway bars for improved handling around corners. This car takes corners like a go cart! It's very fun. There is some rust in the rockers but it has solid floors, very solid trunk (below the spare) and there isn't rust elsewhere so not a show car but a good looking, solid daily driver. It was a CA car before I got it in 2001.
Owning a classic VW (especially this stylish Karmann Ghia) is a great feeling! You'll get thumbs-up every where you go, and you'll soon realize these cars have a personality all their own. If you've ever considered buying a Ghia, or if you've had a classic VW in the past and want to rekindle that joyous, nostalgic feeling that can only come from a classic VW, then you'll enjoy the dickens out'a this cute little racer.
1776cc Engine
Duel Carburetors
New Ball Joints
New Tires
European Hella Tail Lights
New Windshield, Rubber and Trim
Anti-sway bars and slightly lowered suspension for Improved Handling
Front Disc Brakes
Takes Corners Like a Go-Cart!
This Ghia is a super fun drive. I owned it personally from 2001-2004 and drove it thousands of miles. I won 'Best of Show' with it at the first annual Bug Blessing in Sioux Falls, SD. I still have the trophy! I've also driven it to Grand Forks, ND. Both were over 500 mile round trips from where I live and where the car is located in Minneapolis, Minnesota. A Gentleman bought the car from me in 2004 as a surprise for his wife. (He has a family now and they simply don't all fit in this little classic sports car anymore.) Shipping is available so check out the photos via the links below and let me know if you would like to reserve this Ghia for your own! Thanks for your interest in this Little Red Racer! There are some photos from when I sold this Ghia the first time at the bottom of page two of our Sunset Classics Cars Sold Page.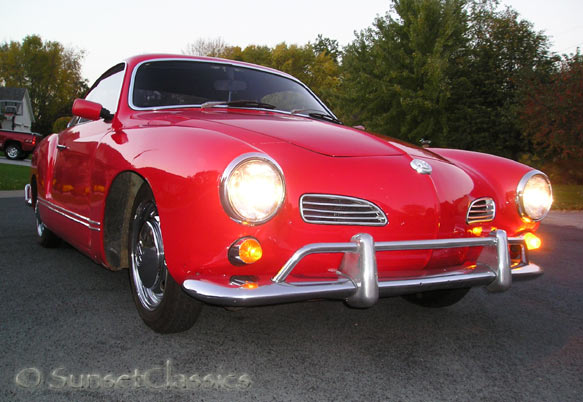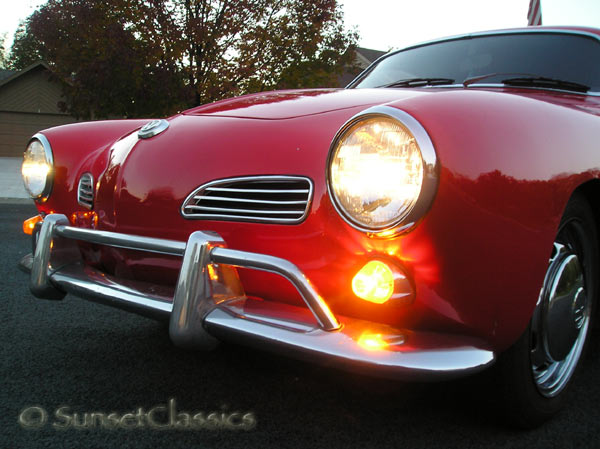 The car looks great but it's far from perfect. I got the car straight out of California but there are now a few areas of rust. These areas are detailed in the close-up gallery below. The floor pans, trunk and most of the car is really solid but there is some through rust in the rockers. The paint looks great but there are some large scratches on the hood and roof of the car. You'll have things you will want to fix up over time but this is a nice, affordable car for you to start growing your love for the Karmann Ghia.
Click an image below for many more detailed photos
of the interior and exterior of this fine 1968 Karmann Ghia
Click the photos above to view a lot more PHOTOS of this classic 1968 VW Karmann Ghia!