Two Classic Mercedes Benz Convertibles for Sale
These Classic 1971 Mercedes 280SL and 1967 Mercedes 250SL have Sold
UPDATE: the 250SL has been beautifully restored- take a look

1971 Mercedes Benz 280SL Convertible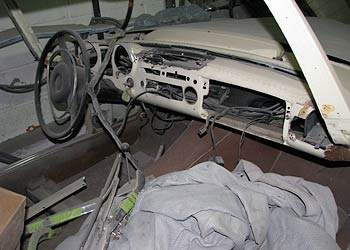 This 1971 Mercedes Benz 280SL with automatic transmission and air conditioning, is currently being restored. The car is down to bare metal and should be repainted within two weeks. It is originally a California car and therefore had a very solid body with no rust before the restoration began.
The current plan is to paint the car in English white, like the finished Mercedes 230SL shown below, and use red leather interior. The car when finished will have new exterior, chrome, tires, soft top (black) and painted hardtop to match the vehicle color. The interior has new red leather seats, dash cover, door panels and soft top cover. New carpets and new wood trim will also be installed. The mechanical work being done includes the exhaust system, engine and transmission restored to excellent condition, as well as working air. The detailed engine bay will be completely detailed as well.
---

1967 Mercedes Benz 250SL Convertible
NOW FINISHED: Take a look at the beautiful restored results of this
Mercedes 250SL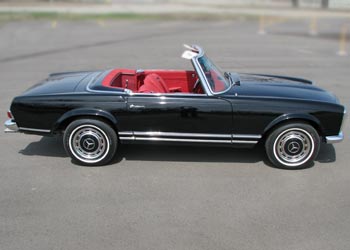 The second car we have for sale is a 1967 Mercedes Benz 250SL. This is a European model and has a 4 speed transmission. The same restoration is being done as described above, but this Mercedes has gauges in KM and the covered European headlights. This is a really cool car.
This Mercedes originally came from Texas so again it had a real solid body. An extensive, year-long nut and bolt restoration was just completed on the car and she looks amazing! With the odometer showing a total of only 11 KM this Mercedes 250SL is ready for you to enjoy to the fullest. This is a gorgeous example of a very rare Mercedes, and it is proudly finished in arguably the most desirable color combination of black over red. These are really fun little cars and the values are exploding.
Below are photos of a finished Mercedes Benz 230SL from the same shop