1961 VW Kombi Bus for Sale
This Vintage 1961 VW Microbus has Sold
75,555 Original Miles, 40hpr Motor, Runs and Drives Great!
More great VW Buses for sale below...
Place a bid today and Buy with confidence with eBay's $50,000 Vehicle Purchase Protection program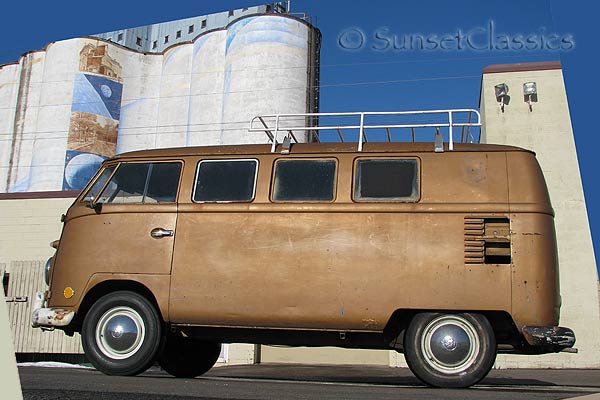 This is the first VW Bus I've ever owned. This is the VW Kombi that started my addiction! I now have four buses and, well, that's just too many even for a VW Bus lover. This one runs and drives GREAT! It starts right up and it has a strong 40 hpr motor. This is the correct size motor for 1961. This bus has the option of all pop-out windows. Since it's a Kombi (or a standard) it came from the factory with no headliner. The wheel wells and dash are uncut, and the bus is about 7-8 out of 10 on straightness, and it's about 8 out of 10 on rust-freeness too. Rust-freeness? Hmmm...
One unique feature on this Kombi is that it has its entire mileage history right on the dashboard! The previous owner kept track of mileage with a pencil right on the dash. The earliest date I can read is from 1972 when the bus had 54,307 miles. By 1984 the bus had racked up 59,592 and in 1987 (June 15th to be exact) the mileage was 63,808. When I got the bus it came with a running 40hpr motor. But that engine went kaput in 2006 (I still have the block). The current 40hpr motor came from my restored 1958 Palm Green/Sand Green Bus. The engine starts RIGHT up as soon as you hit the key and it runs very strong. Check out video of the engine starting below (videos coming soon).
Another option in addition to the pop-out windows (this one I added) are the front bumper steps (just in case you want to give your grandmother a ride around the block). They're a cool little extra. The roof rack does not go with the bus unless the bus is sold with buy-it-now. I would like to keep the rack for another one of my busses.
This '61 Kombi is one of the cool "old ones". It has the bullet front turn signals, a small back window and little, round tail lights. It also has ice pick door handles and big spoon latches for WIDE pop-out windows. All six side windows pop out (one spoon is broken but the rest are in good shape). The bus is still 6 volt. The turn signals and brake lights work for the most part, but the blinkers are dim and a bit irregular (common with 6 volt systems). But they can usually be whipped back into shape by just wiggling some wires and turning the bulbs. Then they work for a while until the bus gets lonely and wants some attention again.
The emergency brake works great. The horn even works. The front dome light works as it should. The rear dome light worked last fall but didn't turn on when I tried it this spring. (Probably needs some wiggling :-) The front tires are the original bias-ply style. Rears are radials. Both sets have decent tread and some cold cracking. The heat works about as well as a 1961 bus should, i.e. not great but it's there. But it blows just a bit of heat onto the windshield. I have the heat wired on at the heater boxes. I do that for the spring and fall and release the heater box cable (at the heater box) during the summer. But the heater tube is all there. By the way I have stored this bus for the Minnesota winters, and so did the previous owner (although it was for the Wisconsin winters :-). The owner before that, perhaps the original owner, was from Illinois.
The fuel tank reserve valve works! This is a fun little toy only found on very old VW's. When you start to run out of gas you pull a lever and you get another gallon or so of gas so you can make it to a filling station. Life sure was simple back in the 50's and 60's. There is no radio but the dash is in great shape and not cut.
The original dove blue paint is under that gold somewhere. The gold flakes off in some places and my dream was always to get this bus back to original paint (by chipping, scraping, sanding, rubbing...). It would be quite a bit of work but I believe it to be possible.
The brakes work well and the brake pedal is pretty high and firm. The 40hpr motor is actually pretty responsive! I guess 40 horses is quite a few...if they were all together in one place...charging at you. Hmm. But since I took the motor out of a restored bus I bought last summer (to put in a 2180cc...bo ha ha) my guess is that this motor was rebuilt. It runs strong and starts right up but that's all I know for certain. Last fall I had the driver's side rear wheel baring replaced because the driver's side rear wheel was leaking fluid. So replacing the baring did the trick and it now doesn't leak (or fling) fluid. It does drip a bit of oil around where you would guess it would if the rear transaxle seal was starting to leak. It just started doing that right after I put in this great-running 40hpr motor (figures). Inside the bus, the rear seat isn't correct for the year, and the front seat is period correct but I think both parts of the front seat are rear bottoms for a double cab. They work but they're not quite right.
As you can tell by the photos the bus is pretty solid. I've seen a LOT of busses for sale and just about every one I have seen that isn't restored is rustier than this one. There is rust in the passenger side rocker, but both front dog legs are super solid. The front floors have some surface rust but there is still some original paint on the floors. The driver's side rocker is mostly super solid except for some bubbling in front of the rear wheel. And there is some rust under the battery. But most of the bus is nice and solid. The frame is in very good condition. All of these areas are shown in detail in the close-up photo gallery (the link is just below this list of photographs). Overall it's in pretty good shape. It runs and drives great. This bus has good karma and it will treat you well.
It sure looks as if I could talk forever about this bus, but I'll just leave it that if you have any questions let me know. You can reach me during the auction at - SOLD. Please take the time to view both photo galleries, and good luck winning the auction on this original, low-mileage classic VW Microbus!
Click an Image below for many more detailed photos
of the interior and exterior of this fine 1961 VW Kombi Microbus
See this Classic 1961 VW Microbus in action below:
Videos include test-drive, drive by, walk-a-round and more!