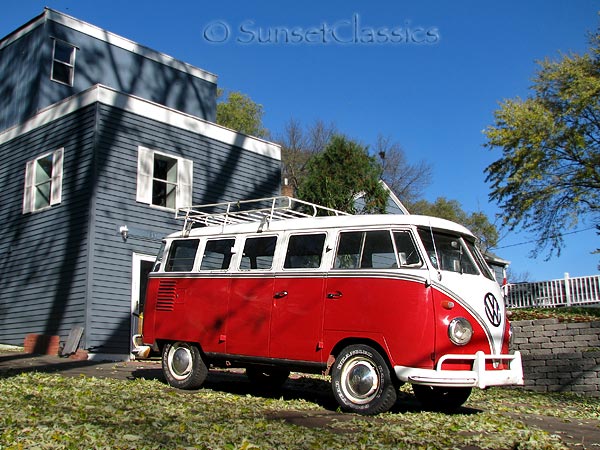 This is a beautiful and unrestored original 1961 VW Deluxe 15 window Microbus for sale. Deluxe VW Buses prior to 1964 are my favorite as they have the wrap around rear corner windows giving the passengers a full panoramic view from inside. This bus provides 9 passengers not only a fun ride but a spectacular view no matter where you are seated. A Deluxe Bus is different from a Standard in that they have belt line trim, trim on the bumpers, chrome trim on the rear vents and 15 windows vs. 11 windows (prior to '64). 1964 and newer Deluxe Buses are the same except they only have 13 windows as they don't have the rear curved glass.
This VW Deluxe bus lived much of its life in North Dakota where they do not use road salt like they do in many major Northern cities. As a result the bus is extremely dry and nearly rust free. The bus lived some years in Montana and for the past 10 years prior to my ownership it was in storage and seldomly used. I got an estimate for a potential buyer yesterday and it would only total around $4500 for body and paint restoration of show quality. This bus needs almost no body work should you decide to give it new paint. Compared with every other unrestored bus I have ever seen this bus a truly a surviving gem. It is interesting to view as it is still in its original condition. Simply enjoying the bus as it is today would certainly be fun and fascinating for many years to come. A paint job and interior should push this bus into the mid $30k's if that is the direction you decide to go with the bus. I need to keep the roof rack for another bus in my collection but I did want to see and show how the bus looked with a rack on it. This classic VW buses are iconic. As you can probably tell I love them very much, and values for rare models continues to rise steadily.
The 1961 Deluxe VW Bus starts, runs, shifts and drives well. The interior has all three seats in original upholstery. The original middle seat is even still with the bus. The original door panels are all present and in ok shape given their age. The middle seat is torn the worst and there is wear throughout as you would expect from an unrestored original. All of the windows have the correct big spoon latches and except for one repaint years ago this bus is completely original. The original headliner is still in the bus and all of the original door panels and floor mats are intact. The 40 hpr engine springs to life the second you hit the key and the bus goes down the road as you might expect from a 48 year old original. Odometer appears to be broken and the original mileage is unknown. With new tires the ride would be very nice.
In some of the photos the rear-most "jail bars" were not installed but I have since attached them to the rear hatch so the bus looks nice and complete. There are a few lighting issues to sort out but this Deluxe always starts right up and it idles and runs well. The bus comes with two new 6-volt headlights that need to be installed. The tires are cold cracked and will need to be replaced before the bus is driven any distance. A used car check was done on the bus recently and I am happy to share the findings. The emergency brake is not hooked up and the side cargo doors are hard to close. The inside handle needs to be tightened down with a screw driver I'm sure that's part of it. There is one "big spoon" latch that is broken on the driver's side but the bus comes with a correct replacement.
Two months ago the gas tank and fuel lines were replaced, a new clutch was installed along with a new throw-out barring and pressure plate. A new flywheel and main shaft seal were also replaced at the same time. New axle boots where also installed this past September. All of the above mentioned work was done in Sept, 2009. To let you know how original this bus is it still had the original axle boots on it from the factory until just last month!
If you are thinking of buying a rusty 15 window deluxe, you can buy this one and probably save yourself $20,000 + in welding expenses and a ton of time. And in my humble opinion you will end up with a nicer and more original bus when you are finished. There are not many of these beautiful 15 window deluxe buses left. I have sold cars to all parts of the World and I can help by providing a list of shipping companies to the winning bidder.
Please enjoy the photo galleries below so you can better familiarize yourself with this Volkswagen Bus. You can hear the bus run in the videos below and feel free to ask any questions you may have. Thank you for your interest and good luck with the auction! John Snell - SOLD
Click an image below for many more detailed photos
of the interior and exterior of this 1961 VW Deluxe 15-Window Microbus
See this Classic 1961 VW Deluxe 15-Window Microbus in action below:
Videos include test-drive, walk-a-round, engine running and more!