Volkswagen Eurovan T4 Camper for Sale
Buy This Classic Type 4 Eurovan Camper
17k Original miles, Diesel Engine, Rare High Top Conversion, An Ideal Home away from Home!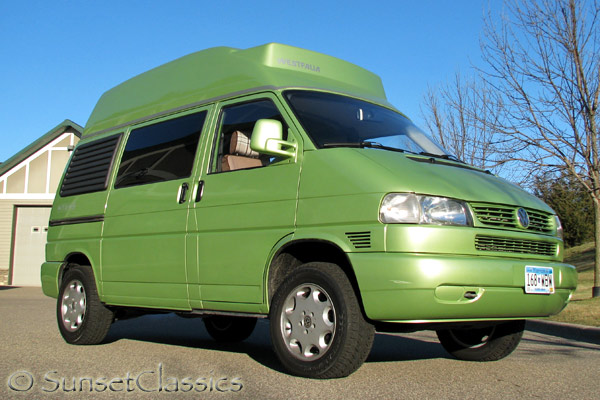 It's not often you have the opportunity to own something as well cared for as this High Top VW Camper for sale. Nostalgia is often associated with antiquated, but in rare instance you can enjoy both a sense of nostalgia and the benefits of enjoying something almost like you just drove it off the showroom floor. This is a European model imported into the United States by a private owner. I have it for sale on consignment and it was last sold by a local VW Dealership here in the Twin Cities, MN. If you always wished you had purchased a VW Camper back in the day here is your chance to pick up a like new version of an already classic VW Eurovan.
As you'll see and hear in the video below, this Camper is powered by a fuel-efficient 2.5 TDi Turbo-Diesel 5-Speed. The camper if fitted with many amenities including:
Sink
Stove
Refrigerator
Outside Shower
Folding Rear Bed
High Top with Skylights
Multiple Closets and Storage Space
Fresh and Greywater Tanks
Power Converter
2" Lift Kit with 16" Alloy Wheel and Yokohama Geolander Tire Package
While this vehicle features a beautiful Westfalia decal on the rear, all signs point to this not being an original Westfalia conversion. As you can see, whomever did the conversion did a fantastic job. The interior looks modern, clean and fresh.
Please enjoy the videos below to see and hear how well this Eurovan runs and drives. There are nearly 100 photos in the photo gallery linked in the two photos just below this written description (just above the video). If you have any questions please feel free to reach out! As you can see from some of the last photos in the gallery, even at a show with many other classic VW Buses and other old VWs, this green Eurovan still attracts attention. Let me know if you have any questions or if you would like to reserve this Volkswagen Camper for your collection! -John Snell 612-805-2428.