1979 Chevrolet Camaro Z28 for Sale
Nice Rust-Free Chevy Camaro w/ 98,098 Miles, Reconditioned 350ci engine, Runs and Drives Great!
We have a mighty fine 1979 Chevrolet Camaro for sale. This Chevy Camaro Z28 runs and drives very smoothly. It's a nice, mostly-original car that hasn't been hot-rodded into oblivion. You can granny it around like it's 1979 and pretend you're just on a smooth drive to the grocery store in your new daily-driver. Or you can realize it's 2010 and you can soak up all the attention and thumbs up you'll get from driving this great classic around town. Perhaps you'll pretend you're back in High School and you're on a Saturday Night cruz. Whatever the case you'll have a blast driving around in your newly acquired Classic Camaro Z28.
The 350ci Turbo Fire engine has been gone through and you can hear how smoothly it runs in the video below. The engine runs as smooth as silk. You can stomp it down and she'll squeal the tires, but this car works great as just a relaxing, comfortable driver. This is a super solid car and you can see the undercarriage for yourself in the close-up photo gallery via the link below this description. The rocker panels have the factory drain holes in them and are rust free. The interior looks to be original and except for some discoloration in the carpet the interior cloth is all in good shape. The dash is crack-free. This is a nice, low mileage Camaro and it shows.
The paint and decals were done about 10 years ago. I wasn't able to find any blistering, bubbling or rust. There are a few imperfections in the paint and I photographed these areas and they are in the Camaro close-up gallery (there is a little texture in the paint above the driver's side door for example). The paint job isn't a perfect 10 as there is a little "orange peal" here and there, but I'm a body man and I'm pickier than your average Joe. Even with my trained eye there is no denying that the car looks really good.
Features and Upgrades:
98,098 Original Miles
350ci engine
New Bearings/Seals
New Cam Shaft
New Valves/Valve Springs
New Lifters
All New Gaskets
Crack-Free Dash
Runs and Drives Great!
I've seen two Z28s go on eBay in the last 60 days. One was red and it was bid up to over $15k. And the other was blue and it sold with buy-it-now of $14,900. I love these cars and apparently I'm not alone. 1979 was getting near the end of the second generation Chevrolet Camaro's - a great American muscle car. The chassis and suspension of the second generation was greatly refined in both performance and comfort, and even the base models offered significant advances in sound-proofing, ride isolation, and road-holding.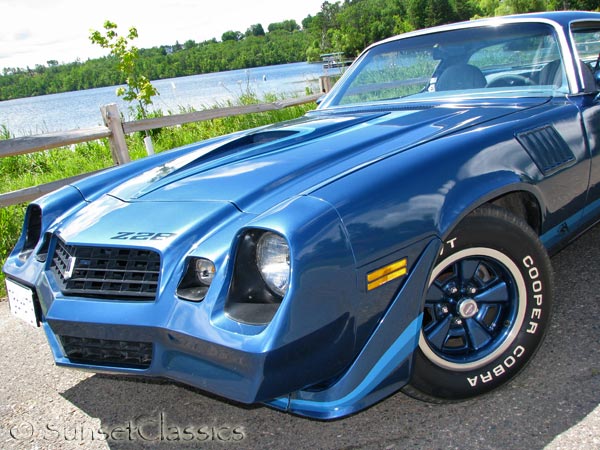 Everything seems to work as it should and the car always starts right up. Acceleration has no hesitation and the car shifts smoothly through the gears. The radio is a little temperamental but it worked the last time I drove the car (even the tape deck worked as you can hear in the videos below. This is a Camaro you can just enjoy as is for many miles to come. It's a fun ride, it looks great, and we have it priced to sell.
Thanks for checking out my auction. Make sure you make it to the photo galleries and videos of the car the links are just after the following great batch of photos. This is a great Chevy Camaro Z28 and I'm sure you will love it.
Click an image below for Photo Galleries showing
the interior and exterior of this fine 1979 Chevrolet Camaro Z28
See this Classic 1979 Chevy Camaro Z28 in action below:
Videos include startup and walk-a-round!
Click the PLAY button below for some exciting video!