1931 Chevy Deluxe Sedan for Sale
Buy This Classic 1931 Chevrolet Sedan
Two Owners, Original Upholstery, Beautiful Paint, Starts and Runs Great!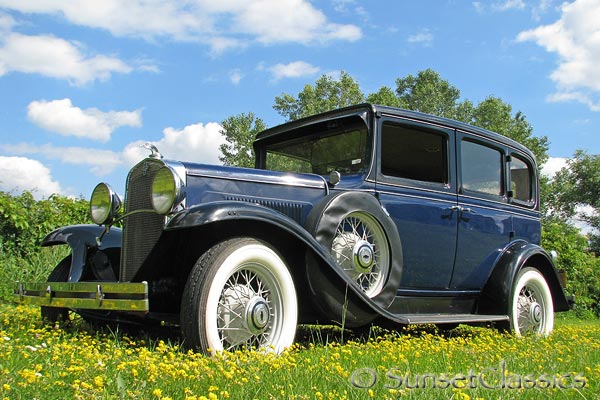 This is a 1931 Chevy Deluxe Sedan for sale from Sunset Classics. It's not every day you find a vehicle over 80 years old with a beautiful original interior. It's also pretty uncommon to find something from such a different era that has been with just two owners. This is a very well cared for rare classic sedan that is just coming up for sale for the second time in over 80 years! If you miss this offering you may never get a chance to own this beautifully colored 1931 Chevrolet Sedan Deluxe.
There are several features on this 1931 Chevy that jump out right away. The first is the very stylish spare tires on both sides of the car. The wood spoke rims and the wide white walls really help you appreciate the 'Deluxe' treatment on this classic. I have seen a few other '31 Chevy Sedans for sale and without the spare tire on the running boards they lack the style and class that emanates from this striking example. If you're going to get one of these fun and nostalgic automobiles you definitely want to get a Deluxe.
Amazingly this car still retains its original interior. The upholstery, window cranks and door handles are all original to the car. There is a footrest for the back passengers and amazingly the rear windows still retain their original functioning roller shades! It's clear that this car has been treated very well its entire life.
All of the gauges are fully functional and the car starts right up from the floor mounted starter button. The car runs and drives nicely and the mechanical brakes operate well. The local service station recently greased all of the suspension points (for free!) and you will find people LOVE tinkering with this rare classic. This '31 is a complete joy to drive and the current owner has been careful to drive the car some every summer so things stay moving as they should. This is a three speed on the floor and power gets to the road via beautiful 19" spoke wheels. The odometer reads just 59,842.
Have a look through the photos in the gallery below, and enjoy the videos so you can hear this timeless classic start up and purr. The paint is very nice though not perfect. There are a few small imperfections as pointed out in the photo gallery. But even from a thorough walk around you will be amazed at the condition of this 1931 Chevrolet Deluxe Sedan we have for sale!!!!!
John Snell 612-805-2428