1978 VW Bug Convertible for Sale
This Classic 1978 VW Bug Convertible has Sold
Nice Original Rust Free Super Beetle - Runs and drives great!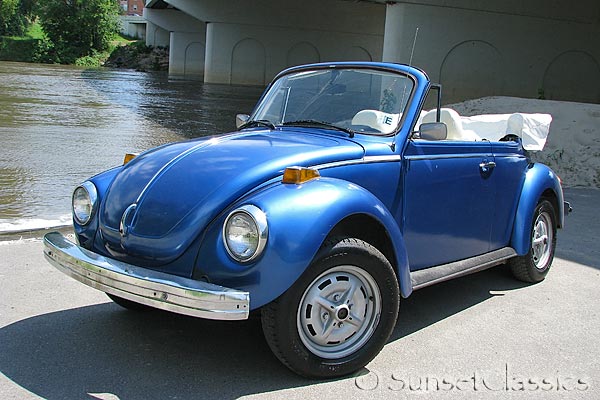 Here is a nice 1978 VW Bug Convertible for sale. This VW Super Beetle was sold new in California in 1978 and it has a solid, rust free body to show for it. Most classic VW convertibles have had metal repair work done to them over the years but this body is original and rust free. The bug runs and drives great and has had the same loving owner for over 15 years.
The interior and top on this bug convertible are white which is sure nice for keeping things cool when the sun is out. A lot of classic VW Beetle convertibles had black interiors so the white interior is definitely the way to go. Plus it looks fantastic with the bright blue exterior.
The seats and door panels look to be original and are in good, usable and used condition. The top is also white and the outside vinyl is new. The top wasn't finished though and the headliner and rear window would need to be installed to finish the top. Those items do come with the car and if you had those installed you would then have a brand new, beautiful white top. The current owner got an estimate for the work and it was $800. But she always has the top down so she hasn't been very motivated to do anything other than drive the car on nice days. The bug could always be enjoyed as it is and then when the time is right the top could be finished at the new owner's convenience. Another thought could be to buy the car, fix the top and resell it as it would be a $7500 convertible with the job completed.
The tires are like new and four of the 5 rims (including the spare) have the correct 1978 date code on them showing they are most likely original to the car! This really is an original classic. The interior is original as is the paint inside the doors and in the engine bay and trunk. It has had one repaint and the engine is carbureted. The engine starts right up and the Bug drives very nicely down the road. This one is a real classic and the color combination is original to the car.
Check out the photo galleries and enjoy the videos below to get a better idea of the exact condition of this classic 1978 Super Beetle Convertible. These are sure a ton of fun and you will get a lot of smiles driving this bug convertible around town. Thanks for checking out the listing! - SOLD John Snell.
Click an image below for many more detailed photos
of the interior and exterior of this fine 1978 VW Bug Convertible
See this Classic 1978 VW Bug Convertible in action below:
Videos include test-drive, drive by, walk-a-round and more!
Click the PLAY button below for some exciting video!
(After playing the videos below, check out our current classic cars for sale)