1974 VW Thing for Sale
Removable Doors, Fold Down Windshield, Convertible Top, Arizona Body
Owned since 1991 by me, John Snell, the owner of Sunset Classics
I've decided to offer my own personal 1974 Volkswagen Thing for sale. I have owned it since 1991 and I have had a TON of fun with it over the years. VW Things are one of the most unique and least common members of the Volkswagen family. VW Things were only imported into the United States in 1973 and 1974, and sales were quite low. So finding a VW Thing these days that hasn't rusted out ever is pretty rare and exciting. This particular thing came from the factory in the least common of the four solid colors offered, Avocado Green.
Volkswagen's "Thing" uses the same engine and running gear as the VW Beetle, Karmann Ghia, and Bus. Even the chassis is the same as on the economical and practical VW Beetle and Karmann Ghia. The Thing benefited from higher ground clearance and a "beefier" suspension as it was designed for both on road and off road use. With the engine and transmission situated right over the rear drive wheels these VW Things do great in off-road situations. The transmission is geared so these VW Things can go up a very steep incline and perform well at very low speeds without killing the engine. Come to think of it I have never needed a tow out of rough terrain in all of the 21 years of fun I've had with this car. I was stuck for almost 2 hours once though after driving myself onto a tiny "island" in the middle of a marsh. Since I didn't have any "running room" to get the speed to make it back out onto dry land again, I had to make a "road" out of downed trees that I scavenged! Whew. What a lot of work that was. I remember distinctly my girlfriend at the time sat and watched me save us from inside the car the entire time. As if building a road out wasn't enough, I also had to dig out the embankment on both sides of my car so I had the room to turn around on this tiny dry spot surrounded by bog. But once the logs were down and I was turned around the Thing made it out in one shot!
So if THAT doesn't sound like a good time, perhaps the fact that the windshield folds down and the doors come off will be enough to excite you. The rear seats also fold down making a solid, metal cargo area. All of these varied optional transformations make the VW Thing one of the most fun vehicles you will ever own.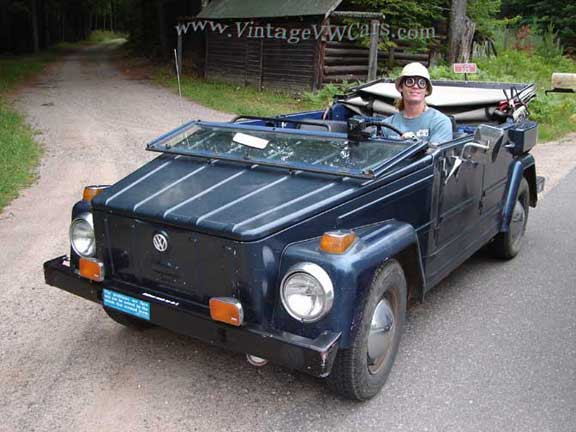 I first bought this VW Thing when I was just 17 (!) and it was in rough shape mechanically. I bought the Thing mostly as a shell as it didn't have an engine or a top. But it did have a super solid body so it was definitely worth my attention. I purchased a rebuilt 1600cc motor from my Uncle Jerry Coffin shortly after buying the car, and with his help we got it up and running! I had my Uncle's VW shop (J.A.C. Auto in Ramsey, MN) do the brakes and they still feel rock solid to this day. I also scored with finding a convertible top frame from that same generous Uncle (they're very hard to find. Oh, both convertible top frames and Uncles ;). Jerry offered to weld a new header bar on it for me too (I remember getting the last one The Thing Shop offered at the time). After working for hours and hours fixing the frame and getting it ready and painted, I put the new tan canvas on myself in the front lawn of my parent's house where I grew up.
This VW Thing came with some crazy Chevy seats so I got some decent VW Thing front seat frames from my Uncle. (As you can tell already it really paid to have a VW enthusiast for my Uncle!). More recently I reupholstered those front seats and they are in great condition now, and they are very comfortable which is a rarity in itself for a VW Thing these days ;). The car came with blue rear seat upholstery to match the paint, but I have since found black seating pads to match what would have come with the car originally. You can have either set or both.
These VW Thing interiors are great. As my Uncle puts it, "There are no door panels and no carpet, so if you get caught out in the rain all you have to do is put the top down and stick the car in the sun and it totally dries itself out!"
This particular Thing had a title that read, "Previously titled in Arizona" when I got it so that explains the solid body. The floors are original and I did take a day to use POR 15 on the floors when I first got the car. I painted the floors at my Uncle's Shop (of course) on one of the weekend of his Vintage VW Weekend car show. I would always stay overnight Saturday so I could be there early enough Sunday morning for the show. So I passed one Saturday afternoon and evening playing with my Thing floor pan :). Take a look through the close-up photo gallery and you can appreciate how solid the undercarriage is throughout. There is only one visible area of corrosion and it is just inside the body along the passenger side rear luggage area. I have stored the Thing every winter since getting it, and to my knowledge it has never seen salt in its entire life.
This VW Thing starts right up and it runs great. The windshield is brand new. I recently installed the correct THING factory style exhaust that exits through the rear bumper.
The front end has new ball joints and the steering dampener is good. For some reason last year the Thing started shaking terribly over 30 mpr and I haven't had time to diagnose what's wrong with it. (Is it scared to go fast suddenly?) My VW collection now tops 24 vehicles (!) so I will have to let the next owner or their mechanic resolve this issue. I did put in new ball joints so that expensive and important job is already done. I also want to point out the top is showing its age and you can see the condition of it in the photos below this description in the "Close Up Gallery". Despite the taped fixing a crack in plastic rear window and a few lose seams, the canvas still works to keep the rain out.
I have all four VW Thing side curtains that come with the car. They all have plastic in them but they are pretty worn out. I always drive this with the top down and my face and hair in the wind (especially when the windshield is folded down!) so on the rare occasion I've needed the curtains they fill the function just fine.
I bought this Thing in 1991 when I had just started my senior year in High School—sorry I keep bringing this up but I'm 38 for just one more week and I'm feeling a bit nostalgic. When I got it the mileage on the odometer read 82020. (I just went out to check my log book for the mileage and I reminded by my notes that I also put in a new clutch with the rebuilt engine at that time.) And today the odometer reads 05700. So I put on exactly 23,680 miles in 21 years. Quite a few of those miles came in 1994 a friend from High School and I took it all the way from St. Paul, MN to Deer Creek, IN to see the Grateful Dead! It was a long, hot ride both there and back and we got pretty sunburned. Eventually we learned that we could put up the top as a sunshade. It seemed counter intuitive at the time to put up the top in such nice weather. But anyway by the time we got there (nearly 600 miles later) the current night's show was sold out and it had already started, and the following night shows had all been cancelled due to the crowd rushing the gate that night. But it was quite an experience just to hear the Grateful Dead from afar and seeing their following up close for the first time ever. It turned out to be my last chance 'cause I think that was their last show as Jerry Garcia died a few months later. But what a site to see so many traveling, dirty young fun people! There was an entire huge 6 hour traffic jam full of them! Wow. Well I'm still writing about it to this day (apparently ;) so I guess that shows the value and longevity of a good experience.
So at least for me, this VW Thing is the vehicle that changed my life forever. I am now the owner and founder of Sunset Classics and VintageVWCars.com. Perhaps this fun VW Thing for sale will have an equally positive effect on your life as well!
Well thanks for reading a rather embellished description of my treasured VW Thing for sale! Check out the photo gallery below and if you have any more questions just let me know. Thanks! -John Snell 612-805-2428
Click an image below for many more detailed photos
of the interior and exterior of this classic 1974 VW Thing
See this Classic 1974 VW Thing in action below:
Video shows start up and walk-a-round!
Click the PLAY button below for some exciting video!