1969 Porsche 912 Appraisal
Classic 1969 Porsche 912
Aug. 13, 2009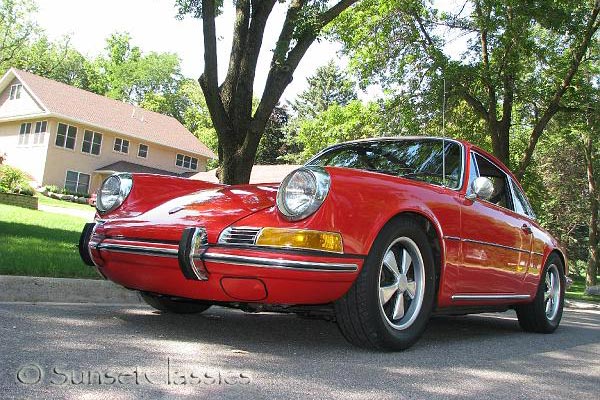 1969 Porsche 912 appraisal for Mr. Brice,
Aug. 13, 2009
Per your request I have reviewed the 1969 Porsche 912 (VIN 129000324) for the purpose of determining its fair market value.
1969 is my favorite year 912 and in the past year I have sold three. Prices ranged from a maroon 912 at $8500 all the way to a silver 912 which I sold for a client Aug. 4th 2009 for $22,000.
This particular Porsche 912 is a nice, solid example that has some tasteful modifications and improvements. Among the upgrades are a slightly lowered stance, anti-sway bars to improve cornering, and a bump in horse power. None of these modifications detract from its value in my opinion.
The overall condition of the car is very nice. As you would expect of a car its age there are signs of normal wear throughout. It is not a "factory fresh" restoration but it is an excellent "driver". The body looks to be in great shape and it was never a "rust bucket". The floors, longitudinals and wheel wells all look to be factory original sheet metal. There was one repair that I noticed in the front, lower trunk. This is a common area for rust for this era 912 as water can collect below the spare tire. The work was done to a very high standard and the repair looks excellent. There are paint and other minor imperfections throughout the body and they can be viewed in the photo gallery below made from the shots I took during my inspection.
The seats are in good, original condition and the headliner is yellowed some and also looks original. The door panels need attention but overall the interior is in nice, original shape. There is factory A/C in this car which is very rare and certainly ads to the value of this particular 912.
I had the pleasure to drive the car and the brakes and clutch felt good. Acceleration was very good. The car idles effortlessly and smoothly.
It is my professional opinion that this 1969 Porsche 912 has a fair market value of $17,500 (Seventeen Thousand Five Hundred Dollars and no cents).
John Snell
Owner, Sunset Classics
Click either image below for many more detailed photos
of the interior and exterior of this 1969 Porsche 912