1967 Chevelle SS 396 for Sale
This True '67 396 Chevelle Super Sport has Sold
All Original Steel, Frame Off Nut and Bolt Restoration, Muncie 4-speed Tranny with Original Linkage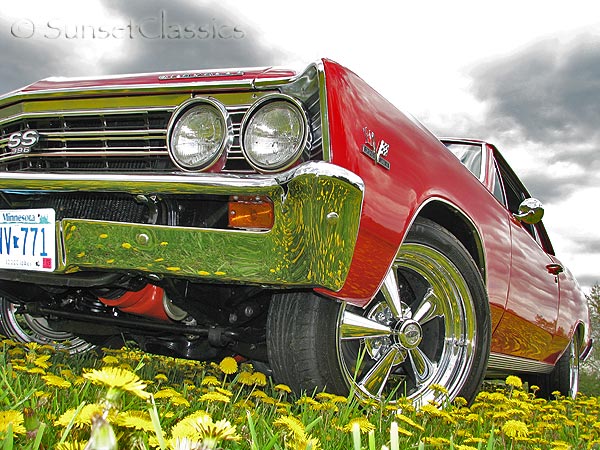 We have a beautiful 1967 Chevelle SS 396 for sale. This 4-speed 1967 Chevelle Super Sport flies. The power horse driving this work of art is a practical 454ci motor. This low maintenance motor doesn't demand high octane gas and it doesn't leak a drop of oil but it still has around 300 horse power. The car jumps off the starting line as this motor produces a ridiculous amount of torque. It's a very fun ride.
But this is a 396 car! So, to sweeten the deal the price listed includes an extra, completely rebuilt, 1968 date coded 396 motor. There are photos of this motor on an engine stand at the end of the close-up photo gallery below. The 396 is a '68 date coded block. The heads have been polished and ported with bigger valves. It has 11 to one compression pistons (dome piston) all done to 375hp specs. It has fewer than 1000 miles on the motor. The 454 that is currently in the car puts out so much torque and it runs on 87 octane and it uses no oil so the seller has been running that motor for convinience. The 396 was bored out 30 thousands and it has bigger valves in the heads. Just selling one of the two motors that comes with the car will not only cover your shipping charges but will also give you some cash right back in your pocket!
This beautiful SS Chevelle has many features. Here are a few:
All original steel including original fenders, doors, floors and trunk
Muncie 4 speed transmission with original linkage and 12 bolt rear end with 331 gear ratio
All new or refinished chrome and stainless steel including bumpers, grill, window trim and headlight rings
Beautifully painted and detailed undercarriage
All new interior including carpet, headliner, seats, gauges, and factory radio
All new glass
Craggar SS Wheels in 17x8 in front and 17x9 out back
Comes with rebuilt 396 engine

This Chevelle spent 17-18 years fully painted on a rotisserie. The painted body was stored on a rotisserie completely disassembled in a climate controlled garage for nearly 2 decades partially due to a missing title. The current owner bought the car and all of its pieces, acquired a title for the car, and then spend thousands of dollars and hours creating the masterpiece you see here. The owner is a true craftsman who spent much of his early days driving 4 speeds down the drag strip. He has an eye for perfection and extra time was spent making sure door gaps and other details were as close to perfection as possible. His knowledge base is matched by few and I can't imagine a better person to appoint the task of assembling and tuning a car as important as this 1967 Chevrolet Chevelle Super Sport.
Even though the hood was almost perfect, the hood is getting repainted so it will be as perfect as the rest of the car. There is a chip shown on page 4 of the close up gallery and that is now fixed. I'm sure you will be delighted with how nice this car is in person. It looks great in the photos but this is one of those cars that looks even better when it's sitting in front of you.
I've seen nut and bolt restorations sell right out of the body shop--basically brand new cars that have just been bolted together. I've seen restored cars with no miles on them bring tons of money. Zero miles cars like that make me worry about reliability. When I spend a lot of money on an investment grade classic car I want to be confident in not only the looks, but also in the mechanics. With just over 3000 proven miles since final assembly, this car is the best of both worlds.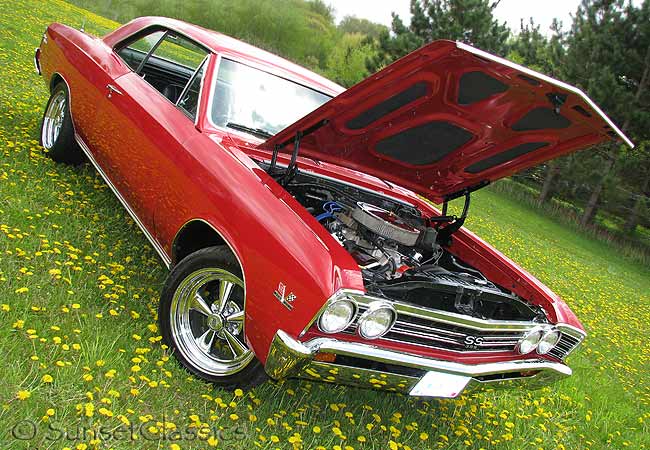 This is one of the nicest cars we have ever put up for sale. So enjoy the two photo galleries and the videos of this Chevelle SS pumping down the road.
Click an image below for many more detailed photos
of the interior and exterior of this fine 1967 Chevelle Super Sport
See this Classic 1967 SS 396 Chevelle in action below:
Videos include test-drive, drive by, walk-a-round and more!
Click the PLAY button below for some exciting video!