1942 Packard 160 Sedan for Sale
This Classic 1942 Packard 160 Super 8 Sedan has SOLD
New Paint, New Interior, New Chrome, 82k Original Miles, 3rd Owner!
Place a bid today and Buy with confidence with eBay's $50,000 Vehicle Purchase Protection program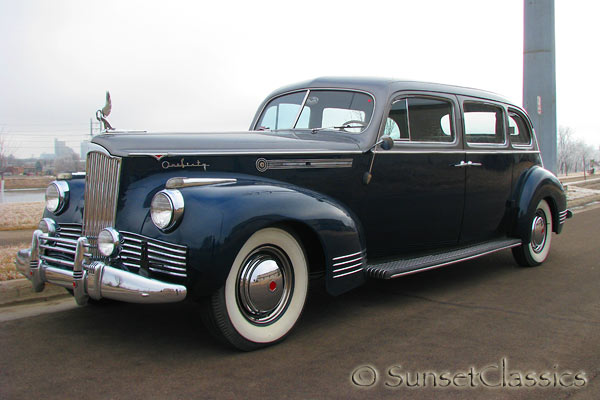 This is a 1942 Packard 160 for sale from Sunset Classics. We have had the pleasure to offer quite a few classic Packards for sale, and this beautiful example is our most recent offering. This car is with the third owner and it has been with the same loving family since 1996. This Packard Super 8 runs and drives great, it has a new interior, new paint, and it needs nothing to be driven and enjoyed today!
This sedan was disassembled and restored in 2011. The exterior features new, beautiful, two-toned silver and dark blue paint. The chrome is new and the stainless steel was polished to match the restored exterior. The exterior lights all work as they should. The cosmetics of this Packard make it a suitable and tasteful addition to any estate or collection.
Mechanically this 1942 Packard Super 8 has received a lot of recent attention. The car has only 82,570 miles. The engine runs well and it has good oil pressure and good compression. This past year the radiator, generator, starter, brakes, and fuel system were all restored. The car has a newly serviced, working overdrive. A completely new wiring harness was fitted to the car to help the original 6 volt system work efficiently. The car has working heat, functional wipers, a working horn, and everything else you need to drive this classic Packard 160 in a fun and legal fashion.
The entire interior was recently restored. All correct wool materials were used in the restoration. The seats, carpet, door panels and headliner were all refinished. All of the interior hardware is in perfect or nearly perfect condition. The door and dash hardware is all complete. All interior electrical works properly. The dash and interior lights and gauges have been restored. There are jump seats in the rear that fold up when not in use. With the jump seats down this Packard Sedan can seat 7 passengers comfortably.
There are few other classic cars that look as classy and as stately as this 1942 Packard 160 we have for sale. Take some time to look through the two photo galleries below this written description. Enjoy the videos so you can get a feel for the sounds of this classic Sedan. This would be a beautiful addition to your private or professional collection. The interesting history on this classic 1942 Packard 160 Super 8 is available upon request! Feel free to call if you have any questions or if you would like to reserve this 1942 Packard 160 for sale!
-John Snell
Click an image below for many more detailed photos
of the interior and exterior of this fine 1942 Packard 160 Sedan
See this Classic 1942 Packard 160 Sedan in action below:
Videos include test-drive, drive by, walk-a-round and more!
Click the PLAY button below for some exciting video!
(After playing the videos below, check out our Current Classic Cars for Sale)